It was a breezy but sunny day in New Orleans and I found myself meandering through the Garden District. My final destination was Sucre on Magazine St. for gelato and a French macaroon.
Along my walk down the foliage-heavy streets I came upon a large crowd, all toting cameras, stopped in front of one of the large, pristine houses in the area. Maybe a tour group, I thought. I stopped to ask one of the picture snappers what the attraction was, and as the words left my mouth, I remembered. Of course, it must be Anne Rice's old house.
Before there was Twilight, there were Anne Rice's lush and sexy descriptions of vampires and New Orleans. I  read her books through high school and college. And while I never fully embraced the vampire culture, I did have a phase where I wore a lot of velvet, my favorite piece was a ankle-length black velvet skirt. I wore it at least once a week, usually with a little black t-shirt. Goth-lite if you will. But that was long ago, and here and now there was bright sun and backpack-clad tourists.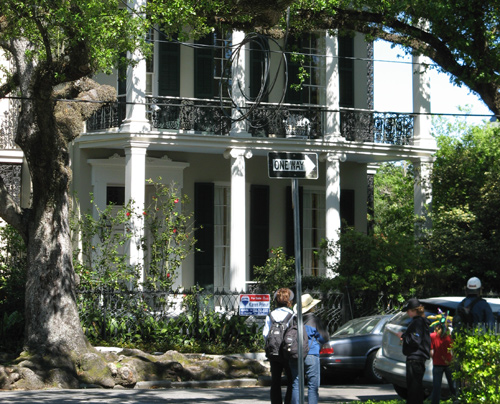 Indeed, the woman, probably in her 30s or early 40s, with her children and husband, confirmed my suspicions, "it's the Anne Rice house," she answered, as she pointed to the entry in her guide book.
Of course.
And at this, I once again become the very self-aware tourist. I have a problem when traveling, I want to snap lovely pics, but at the same time not look like a tourist. One of my proudest traveling moments was many years ago in Paris when some stopped me and asked me for directions, thinking I was a native—it was probably the scarf. But still such self-conscious habits make it difficult to fully enjoy my travels. I understand this—but still my silly habits persist.
But now was not the time for inner soul-searching. I was hungry and wanted sugar. Sucre was the perfect answer to my grumbling stomach. The lemon curd gelato was velvety and the perfect blend of sweet and tart. I couldn't eat another bite so took a French macaroon to go. There are so many other treats to choose from, and this being the week before Easter, there was a plethora of chocolate bunnies and eggs. If only I could eat everything I see.
That's the other kink in my travel plans. I simply can't fit in all the food I want at each destination. Perhaps this means I'll have to return.
To walk off my dessert, I took a detour to Layfayette Cemetery #1 to take some photos.