As a note to this post–I've written and re-written this update many times.  I really liked Memphis, more than I thought I would, but for the longest time couldn't place just what it was that drew me in. Then I realized, much like Providence, my current home, Memphis is a perfect blend of gritty and fun, upscale and downscale. The kind of place you can enjoy a Pabst Blue Ribbon in a totally un-ironic way. But of course, it is the food I will remember viagra en ligne en france. Frankly, the city has ruined ribs for me forever. I doubt I can ever find food this good anywhere else.
Most importantly Memphis is a delicious  city. The food and the people are warm and inviting, and if I had more time I would have gladly stayed longer in order to eat more.
What I find most appealing about Memphis is its lack of pretense. Ribs, a must eat in the city, best portray this character–messy and unrefined, but oh so delicious.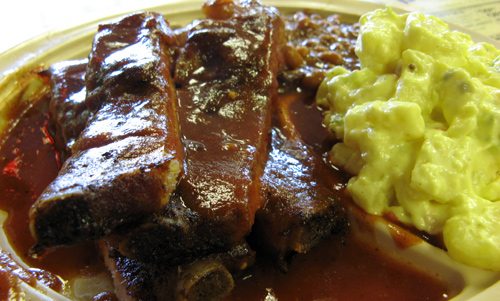 I won't even try to debate the "best" ribs of Memphis. I asked several locals and they all named a few different places. I chose Interstate BBQ and have no complaints. In fact, these ribs have ruined me for life. The meat was so tender I easily licked the bones clean. And the spice blend was tasty, but subtle enough that it didn't overpower the delicate taste of smoked pork. Perfect, just perfect.
After a walk around the city and a long night's sleep I woke up hungry for a sweeter taste of the South. The perfect remedy for my rumbling belly was found at The Arcade Restaurant-the sweet potato pancakes to be exact. Absolutely heavenly. Thick and sweet, a cross between a pancake and sweet potato pie, I absolutely cleared my plate. I hadn't intended to eat it all, but I simply couldn't resist.